In an attempt to mend his broken relationship with the NYPD, Mayor Bill De Blasio is allocating 7.3 million dollars to buy 13,000 hi-tech combat vests which will cost about $700 a piece. Besides the ridiculous waste of money going into this unnecessary ass kissing of the biggest armed gang in the United States, the vests will come with a shotgun resistant plate in the front that dons the emblem of Christian crusaders – people who were sent by the Catholic Church and European monarchies to murder Jews, Muslims, and other non believers (including Christians who refused to obey Rome). The vests are made by a company called Paraclete (which means advocate or helper, usually in reference to the 'Holy Spirit'), who proudly display their crusader logo on their
website
.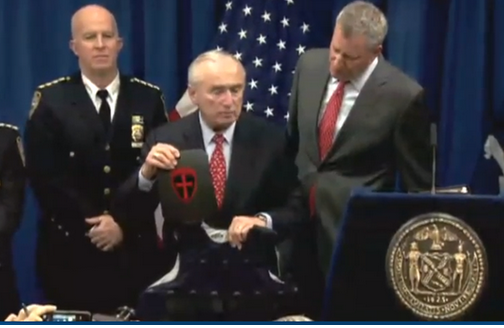 As bad as the experience sounds, I appreciated the young cops' forwardness. He made it clear that his stop was motivated by race and nothing more. In New York City, where I now live, the NYPD immediately rejects any suggestion that racism can motivate officers' behavior, even subconsciously. They categorically dismiss

research

that shows black people are habitually treated more severely than whites when suspected of the same crime. They swear that policing policies like "

stop and frisk

" and "

broken windows

" aren't racially motivated, even though studies have repeatedly shown that

they disproportionately target minorities

. These knee-jerk denials breed distrust and allow tensions to fester. Conversations about race in the U.S. descend into vile name-calling and our fears of social and professional retribution hogtie desires to explore each other's worlds in meaningful ways. Essentially, any cross-cultural breakthroughs we could have about race in America are, in large part, held captive by defensiveness and political correctness.