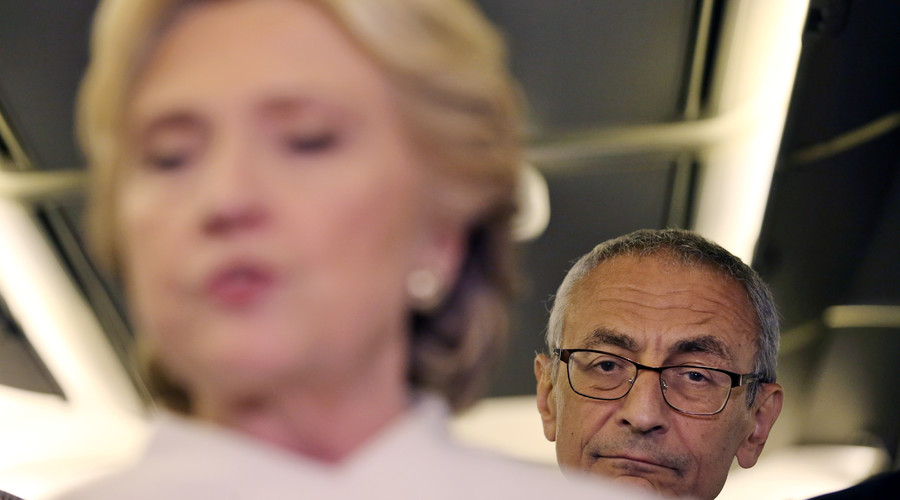 John Podesta, chairman of U.S. Democrat Hillary Clinton's presidential campaign, listens as she talks to the media inside of her campaign plane after the third and final 2016 presidential campaign debate in North Las Vegas, Nevada, U.S., October 19, 2016. © Carlos Barria / Reuters
WikiLeaks has published a new batch of emails from the account of Hillary Clinton's campaign chair, John Podesta.
The whistleblowing site has released more than 30,000 Podesta emails online and has said it intends to keep releasing documents each day right up until the November 8 US presidential election.
The emails have yielded an insight into the inner workings of the Democrat's campaign team, including discussion on how to react to Bill Clinton's
sexual assault allegations
, framing information for 'news hyenas', and boosting Hillary Clinton's public image.
On Monday, the 17th release from Wikileaks revealed Podesta's dim view of Clinton's 2008 presidential run, the team's fears about
Bernie Sanders
"beating us up"
, as well as Hillary Clinton's failure to win over Al Gore.
The releases also shed some light on frayed relationships within the political bubble of Washington, such as long-term aide Doug Band's beef with
'backstabbing'
Chelsea Clinton.