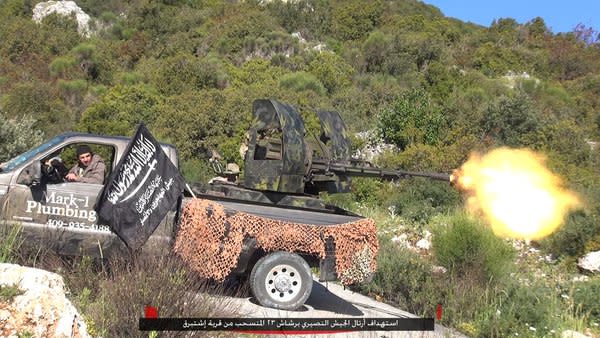 Texas plumber Mark Oberholtzer
is suing the Houston car dealership that sold his pickup truck without first removing his business's decal for over $1 million—because the truck ended up in the hands of the Islamic State (ISIS).
After trading in his 2005 Ford F-250 truck to Charlie Thomas Ford in 2013, Oberholtzer had no idea it would wind up associated with the extremist organization. The vehicle's CARFAX history report shows the truck sold at a Texas auction on Nov. 11, 2013; then nearly one month later, it arrived in Mersin, Turkey, according to Oberholtzer​'s lawsuit.
From there, things only get more bizarre. On Dec. 15, 2014, Caleb Weiss, a contributor at the Long War Journal researching jihadist groups,
tweeted a photo that clearly showed Oberholtzer's truck being used as an anti-aircraft vehicle in Syria. (The suit claims Weiss is a "member of Ansar al-Deen, a jihadist group operating near Aleppo in Syria.")
The truck prominently displays 'Mark-1 Plumbing' on its side, as well as Oberholtzer's business phone number.
Two days after the tweet, when the media got wind of the story, Oberholtzer claimed in his suit that he received more than 1,000 threatening phone calls from people who believed he was aiding and abetting terrorists.
It didn't help that Stephen Colbert picked up on the story for the last episode of The Colbert Report, which was viewed by nearly 2.5
million
people.
The threats and publicity forced
Oberholtzer
to shut down his business for seven days, and consult with the U.S. Department of Homeland Security and the FBI about his personal safety, according to the suit. He claime that he has since started carrying a handgun for protection.
When Oberholtzer traded in his vehicle, he attempted to remove the decal, the lawsuit said; however, a salesman informed him that the dealership had a stronger solution that would prevent paint damage, and the staff would take care of it. Oberholtzer
had no idea the truck "
would be transferred in some fashion to international
jihadists
conducting warfare upon innocents in Syria," according to the suit.