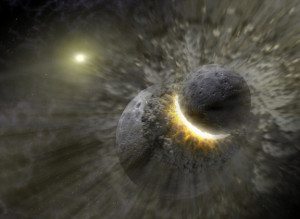 Scientists have long believed that the moon formed from debris created when a Mars-sized object crashed into Earth about 4.5 billion years ago. But there's one very big problem with this so-called
giant impact hypothesis
.
If the moon indeed formed from the collision between Earth and another object, why is the
moon a near chemical match to our planet
? Shouldn't it contain chemically distinct remnants of that other object too?
"In terms of composition, the
Earth and moon are almost twins
, their compositions differing by at most few parts in a million," Dr. Alessandra Mastrobuono-Battisti, an astrophysicist at the Israel Institute of Technology in Haifa, told
Space.com
. "This contradiction has cast a long shadow on the giant-impact model."
Finally, a new study conducted by an international team of scientists -- including Mastrobuono-Battisti -- offers a way to explain away this problem.
"On average,
impactors are more similar to the planets they impact
compared with different planets in the same system," Mastrobuono-Battisti told Discovery News. "Our study was the first to reconsider this issue, now exploring it with large data and... wide range of models."
Link:
http://www.huffingtonpost.com/2015/04/09/how-moon-formed-solved_n_7027700.html