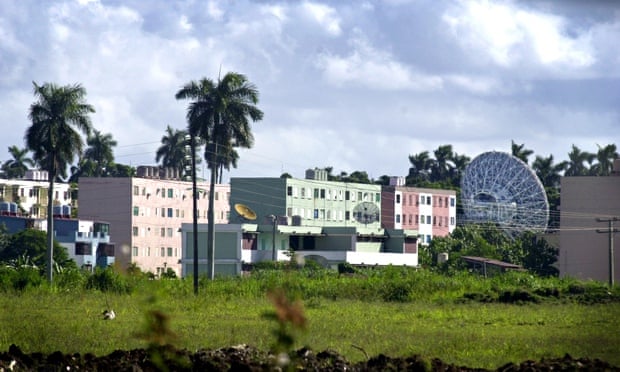 The Russian radar station in Lourdes, south of Havana, was the Soviet Union's largest foreign base, and will now be reopened. Photograph: Cristobal Herrera/AP
The deal to reopen the signals intelligence facility in Lourdes, south of Havana, was agreed in principle during president Vladimir Putin's visit to the island as part of a Latin American tour last week, according to the newspaper Kommersant.
Opened in 1967, the Lourdes facility was the Soviet Union's largest foreign base, a mere 155 miles from the US coast. It employed up to 3,000 military and intelligence personnel to intercept a wide array of American telephone and radio communications, but Putin announced its closure in 2001 because it was too expensive – Russia had been paying $200m (£117m) a year in rent – and in response to US demands.
"Lourdes gave the Soviet Union eyes in the whole of the western hemisphere … For Russia, which is fighting for its lawful rights and place in the international community, it would be no less valuable than for the USSR," Vyacheslav Trubnikov, former head of Russia's foreign intelligence service told Kommersant.
Reopening the Lourdes base marks another low in US-Russian relations, although some experts argue the significance of the move is largely symbolic. Moscow-based defence analyst Pavel Felgenhauer called the reported re-establishment of the Lourdes base a "PR move" to show Washington the "middle finger" and said it was prompted in part by the expansion of western influence in Ukraine. Russian officials have worried that Ukraine, which recently signed an association agreement with the EU, will become the latest former Soviet republic to join Nato.
"There's not much radio chat left of any importance, it's all going to coded channels, so I think the intel-gathering value would be much less than 20 years ago," he said. However, the base could be useful for stealing commercial secrets, Felgenhauer admitted, "because when individuals chatter they're not always so attentive of secure lines."
But Ruslan Pukhov, the director of the Centre for the Analysis of Strategies and Technologies in Moscow, said the base does have military value and that negotiations with Cuba were likely mostly completed before the Ukraine crisis even started in November. The reopening follows Russia's attempts to break its "strategic solitude" by improving military cooperation with other countries and said it could share information from the base with US rivals like China, he said.
Similarly, the placement of Glonass stations in new countries is important for the commercial future of the project, which has become a "kind of fetish for Russian political establishment," Pukhov said. Notably, the United States has refused to host a Glonass station, although Russia has continued to offer. On Wednesday, Russian space systems head Gennady Raikunov suggested placing a Glonass station on the Alaskan coast in comments at the Farnborough Airshow in Hampshire, Russian news agency Interfax reported.