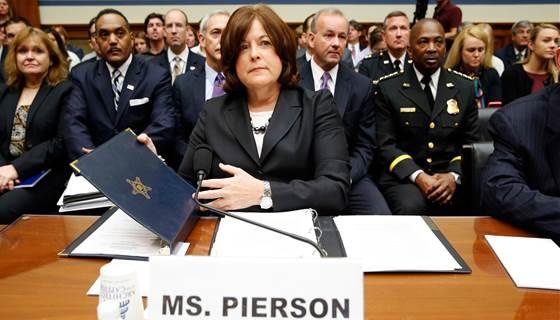 Julia Pierson, the director of the Secret Service, submitted her resignation on Wednesday after a series of embarrassing security lapses, including the revelation that an armed man came within inches of President Barack Obama in an elevator.
"Over the last several days we've seen recent and accumulating reports raising questions about the performance of the agency, and the president concluded that new leadership of that agency was required," White House press secretary Josh Earnest told reporters.
Obama called Pierson to thank her for 30 years of service to the agency, the press secretary said.
Homeland Security Security Jeh Johnson named Joseph Clancy, formerly the service's special agent in charge of the presidential protective division, as an interim replacement. Clancy retired three years ago and entered the private sector.
On Tuesday, Pierson was hauled before a House committee and upbraided by lawmakers, including one who suggested that she was better at protecting her own reputation than that of the White House.
On Sept. 19, a man jumped the White House fence, raced across the lawn, entered the building and made it as far as the East Room before he was tackled, and only then by an off-duty agent.
The Secret Service, in its first account of the episode, said only that the man was apprehended after entering the North Portico doors. Johnson, in announcing Pierson's resignation on Wednesday, ordered an independent review of that security lapse.
On Sept. 16, while Obama was visiting Atlanta to talk about Ebola at the Centers for Disease Control and Prevention, an armed security contractor with an assault record got onto an elevator with the president, according to a report in The Washington Post.
After the hearing, Pierson quickly lost support in Congress. Rep. Jason Chaffetz, R-Utah, called for her resignation, and a leading Democrat, Rep. Elijah Cummings, said he was so disturbed he couldn't sleep.