"Life-threatening" flooding turned deadly in Florida's panhandle lTuesday as a historic weather system that has killed at least 35 people in six states.
Water trapped motorists for several hours when Interstate 10 ibecame impassible.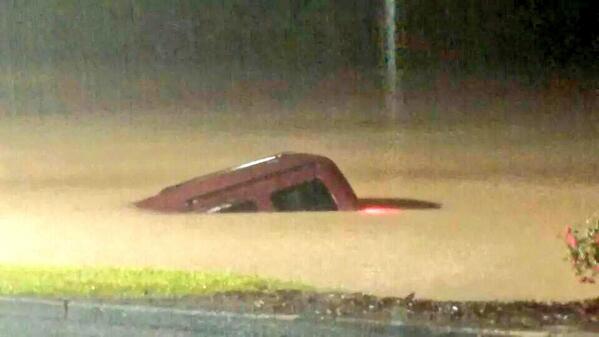 Above photo: Submerged Hummer in Pensacola (Photo Credit: Shawn Reynolds)
One drowning death has been reported in Cantonment, FL, an Escambia County, FL Sheriff's office spokesman told The Pensacola News Journal Tuesday night.
Flash flood emergencies were declared early Wednesday morning for Mobile and Baldwin counties in Alabama, plus Escambia, Santa Rosa and Okaloosa counties in Florida.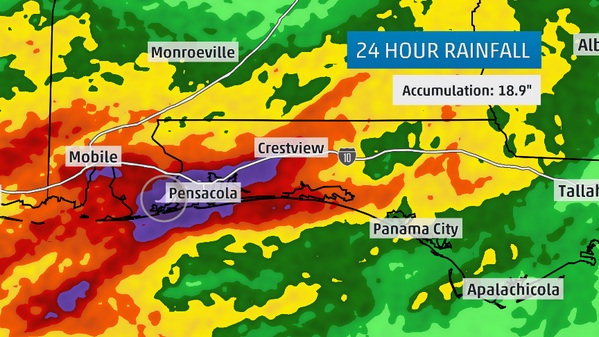 Fish River records in FL go back to at least 1953. Predicted highest in 60 yrs by 8am! 23.91 Feet. Worse than any hurricane! #Pensacola."
NBC News reports, "24+ inches of rain in 26 hours, 6,000 lightning strikes in 15 minutes in Pensacola, Fla.
Over
five inches fell on Pensacola in the single hour between 9 p.m. and 10 p.m. CT (10 p.m. and 11 p.m. ET) Tuesday.
"That's more than the city got in the whole of Hurricane Ivan,"
Weather Channel
meteorologist Kevin Roth said.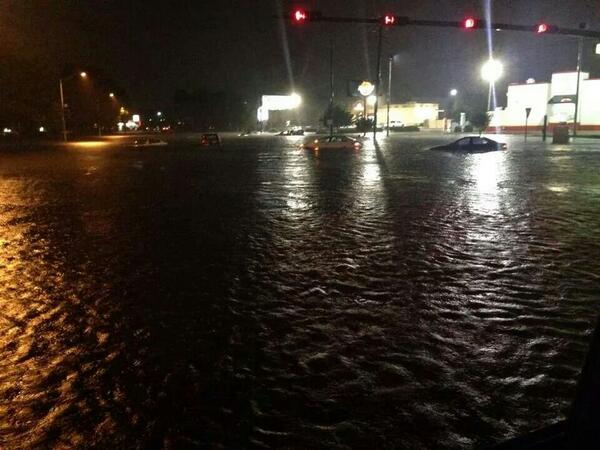 Tornado warnings were declared early Wednesday morning in south Walton and Jackson counties in FL, Houston County in AL, and Seminole and Miller counties in GA.
Severe flooding has taken over streets and neighborhoods of Mobile, AL and Pensacola, FL, including downtown areas of both cities.
The Pensacola News Journal reported via Twitter early Wednesday morning that several downtown buildings flooded, including its building.
Stranded cars remain on roads in Pensacola and elsewhere Santa Rosa County, FL/
Many sections of U.S. Highway 90 remain impassable, according to the NWS Mobile.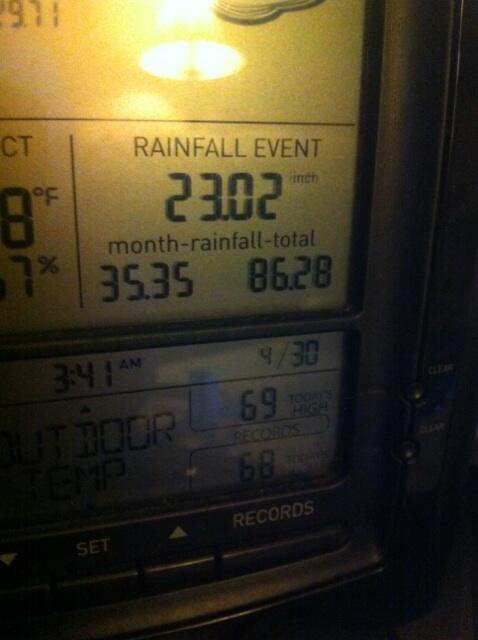 Parts of central North Carolina were under a tornado watch until 11 p.m. ET Tuesday and flash flood warnings are in effect for the area through Wednesday, according to WNCN.
A tornado near Salemburg, NC was tracked going northeast at 20 mph. Two funnel clouds were spotted in Sampson County, NC. It was one of five confirmed tornadoes North Carolina reported Tuesday.
Southern Mississippi, southern and central Alabama and central North Carolina are under flash flood warnings until early Wednesday.
As many as 40 tornadoes have been confirmed by the NWS Storm Prediction Center since Sunday in the Midwest and South, according to the Associated Press. Twenty-five of those confirmed were Monday.