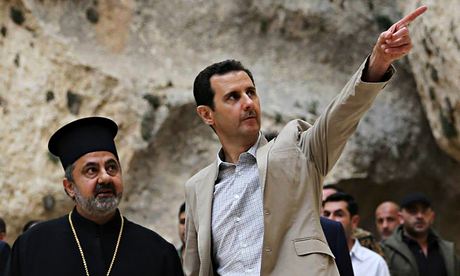 Insiders say western strategy in Syria encouraged radicals and backfired, leading to threat to European security from returning jihadis
In a series of interviews in Tehran, top figures who shape Iranian foreign policy said the west's strategy in Syria had merely encouraged radicals, caused chaos and ultimately backfired, with government forces now on the front foot.
"We have won in Syria," said Alaeddin Borujerdi, chairman of the Iranian parliament's national security and foreign policy committee and an influential government insider. "The regime will stay. The Americans have lost it."
Amir Mohebbian, a conservative strategist and government adviser, said: "We won the game in Syria easily. The US does not understand Syria. The Americans wanted to replace Assad, but what was the alternative? All they have done is encourage radical groups and made the borders less safe.
"We accept the need for change in Syria – but gradually. Otherwise, there is chaos."
Shia Muslim Iran is Assad's main regional backer and has reportedly spent billions of dollars propping up the regime since the first revolt against the president broke out in March 2011. Along with Russia, the regime's principal arms supplier, it has consistently bolstered Assad in the teeth of attempts to force him to step down.
Tehran thus has an obvious interest in claiming victory for the Alawite Syrian regime, which is fighting mostly Sunni rebels, they say. Iranian officials and regional experts deny that is their motive.
The US and its Gulf Arab allies have supplied funding, equipment and arms to the Syrian rebels. Last year, the US president, Barack Obama, appeared on the point of launching air and missile attacks over the Assad government's use of chemical weapons, but Obama's last-minute decision to pull back was interpreted in Tehran and Damascus as a sign the US was having second thoughts and was not wholly committed to winning the war.
"Iran sincerely believed it had no other option but to support the Assad government. Anything else would have resulted in the collapse of Syria and it falling into the hands of extremists," he said.
More than 150,000 people are believed to have died in the Syrian conflict and at least 9 million have been displaced.