Leaders from Chicago's Black Community responded vigorously to the announcement by Chicago Mayor Rahm Emanuel that the supposedly "cash strapped" Chicago Board of Education will build a "Second Payton" selective enrollment high school within a mile of the current Walter Payton high school, while large sections of the city's West Side and South Side continue to suffer from neglect or worse at the hands of the school board and school system CEO appointed by the mayor.
The new high school, which will be named after President Barack Obama, becomes a symbol of Chicago racism even before its doors open. It will sit on the site of what had been the Cabrini-Green Public Housing area. Cabrini, which was once home to thousands of poor and working class families, most of them Black, is now vacant land, with the families that once lived there having been dispersed as far away as Iowa by Chicago housing policies.
Despite the fact that CPS officials, backed by the Chicago Tribune and a dwindling number of other powerful corporate interests, continue to claim that CPS is facing a huge "deficit" and has to implement false austerity programs across the city, the new "Barack Obama High School" will be built at a cost of at least $60 million. It is scheduled to be built less than a mile from an empty high school building (Near North) that has been sitting vacant for more than a decade.
Few Black officials other than CPS CEO Barbara Byrd Bennett came out in favor of Barack Obama High School. A lone cheerleader is Alderman Walter Burnett, whose ward include the area. Burnett's deal with the mayor ensures that even the lowest scoring kids in the area will be able to get into the "New Payton" because there will be a "neighborhood component."
The mayor's carefully choreographed announcement came a day after his hand-picked Chicago Board of Education voted to give a no-bid management consulting contract to the controversial AUSL, which will fire all the teachers and other staff (including principals) at three inner city elementary schools. The proposal to award the consulting contracts, which increase the funding for each of the schools involved by around $1 million per year, was made by CEO Barbara Byrd Bennett, who stood beside Emanuel the next day to announce "Obama Prep."
The expansion of selective enrollment high schools within a mile of Lake Michigan comes as dozens of schools and some entire communities in the city's vast "bungalow belt" (working class and middle class) and ghettos and barrios protest that their schools are overcrowded and that their communities in many cases need additions or new schools. At recent Board of Education meetings, parents and leaders from the Northwest Side and Southwest Side have reminded the Board that their schools needed more. Parents from Canty Elementary School on the city's Northwest Side have now protested for 15 years about the overcrowding at their school. And at one recent Board meeting, a Southwest Side alderman asked that CPS build a new selective enrollment high school in his part of town because, he said, the travel to the available ones for his constituents was very far.
Barbara Byrd Bennett has ignored them all, claiming that "austerity" narrowed the ability of the Board to provide new facilities. Then she again joined the man who brought her to Chicago from Michigan to announce another school construction project to further the privileges of those who already have more privileges than most families in Chicago. Neither Emanuel nor Byrd Bennett addressed the issue of why they are building an expensive new building less than a mile from one that sits vacant. Nor did press reports press the issue.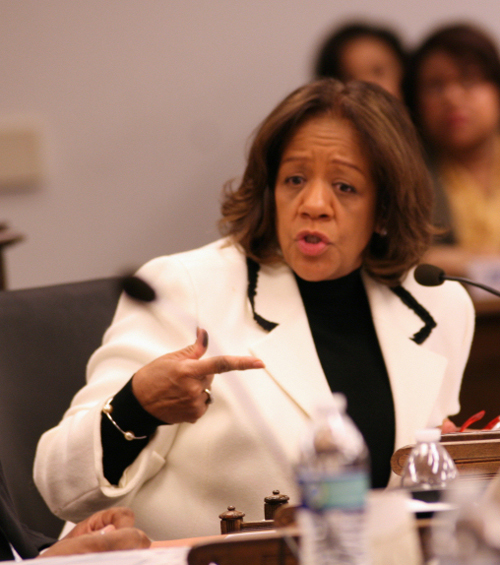 Chicago Public Schools "Chief Executive Officer" Barbara Byrd Bennett (above, during the April 23, 2014 meeting of the Board) did not even mention the fact that she would be appearing the day after the Board meeting to announce a plan to build a $70 million new selective enrollment high school less than a mile from the tony Walter Payton High School. During the April 23 Board meeting, Byrd Bennett's scripts called for her to claim that the interests of the children of the West Side and South Side will best be served by firing all the teachers and other staff at three schools targeted for so-called "turnaround." Then, despite years of appeals for a general high school on the city's Far West Side (in the Austin community), she dressed up the following day to slavishly continue her repeating of the party line of Mayor Rahm Emanuel, who appointed her less than two years ago. Substance photo by David Vance.
One response that came out follows:
For Immediate Release: Contact: Dwayne Truss (773-879-5216)
Austin_youth@sbcglobal.net If it is not clear to the black community that Mayor Emmanuel could care less about providing well-resourced schools for our children, today's announcement proposing to build a new "Selective Enrollment High School" named after President Barack Obama at the intersection of Halsted and Division is a slap to both black families and children.
The proposed use of $60 million in Tax Increment Funds (TIF) for 1,200 students ($50,000 per student) is money that should be used to provide adequate funding for all of Chicago's neighborhood schools rather than cater to wealthy middle-class families the school is targeting.
Facts about Mayor Emmanuel's education plan concerning black students:
-- Mayor Emmanuel closed 46 neighborhood schools on both the West and South Sides of Chicago.
-- The Mayor announced the expansion of the International Baccalaureate (IB) in five elementary schools. Three of the five will be based on the North Side of Chicago.
-- The Mayor just privatized three neighborhood schools by giving no bid contracts to the Academy of Urban School Leadership (AUSL) formerly chaired by the current Board of Education President Dave Vitale.
-- Mayor Emmanuel supported opening new charter schools in African-American communities where neighborhood schools were closed. Especially in Austin where the Chicago Education Partnership (CEP) is led by the same leadership of the By The Hand Club for Kids-a Moody Bible Church sponsored organization-with no history of ever operating a school. The school was granted conditional approval by CPS as to give it time to redo its' poorly proposed curriculum. The leadership of the proposed school is all white.
-- 68% of the schools located in North Lawndale are privately managed by several unaccountable organizations. The student population is over 90% African-American. Those who control the management of those schools are white.
-- Austin Business and Entrepreneurship Academy (ABEA) did not staff critical classroom (biology, science, and music) teachers until March of 2014 because Mayor Emmanuel's "per pupil" budgeting policy resulted in budget cuts of $600,000. The Chicago Tribune just documented that charter schools are 65 times more likely to expelled black students without restorative practices then neighborhood schools. How is that for an effective school to prison pipeline?
I am calling on black elected officials to begin telling the Mayor following:
· stop his creation of a multi-class school system
· stop privatizing schools in black communities
· fairly fund all neighborhood schools
· support a fully elected Chicago Board of Education.
CHICAGO PUBLIC SCHOOLS OBAMA HIGH PRESS RELEASE BELOW HERE:
FOR IMMEDIATE RELEASE. April 24, 2014. CONTACT: Mayor's Press Office. 312.744.3334
press@cityofchicago.org
CPS Office of Communications. 773.553.1620
MAYOR EMANUEL AND CPS CEO BYRD-BENNETT ANNOUNCE PLANS FOR NEW SELECTIVE ENROLLMENT HIGH SCHOOL, ADDING 1,200 MORE HIGH-QUALITY SEATS
School to Be Named After President Barack Obama
Mayor Rahm Emanuel and Chicago Public Schools (CPS) CEO Barbara Byrd-Bennett today [April 24, 2014] announced plans to build a new selective enrollment high school for School Year 2017-18 (SY17-18) that will be named the Barack Obama College Preparatory High School. The school will ultimately enroll 1,200 students, creating more opportunities for students and continuing Mayor Emanuel's pledge to provide more high-quality options for families across the city.
"We must seize every opportunity to ensure our students receive a world-class, 21st century education and that they are able to take advantage of the academic opportunities they have earned," said Mayor Emanuel. ""Year after year, too many of our students who have put in years of hard work are turned away because as a city we haven't had the capacity to meet their capability and this important investment will help us fix that."
This will be CPS's eleventh selective enrollment high school and, as with other selective enrollment high schools, students from across the City will make up the student body. It will open in the fall of 2017 with an inaugural freshman class of nearly 300 students and will add subsequent grade levels each year following. Approximately 70 percent of the school's seats will be made available to students through the selective enrollment admissions process.
The school will also establish a neighborhood preference for students to fill the remaining seats. This enrollment model has proven successful at Jones College Prep and Westinghouse College Prep.
Selective enrollment schools are highly competitive and the demand from parents and students far exceeds the capacity. Applications for these schools grew 8 percent this school year with 16,440 students vying for one of approximately 3,200 seats throughout the district. As in years past, more than 2,400 students this year who qualified for admissions into a selective enrollment school were denied because there were not enough seats available.
"All of Chicago's children deserve a rigorous academic environment that is well suited to their individual needs and designed to prepare them for college and beyond," said CEO Byrd-Bennett. "When a student has worked hard to make the grade and excel, we need to do our part to provide them with opportunities that will ensure they can live up to and achieve their full potential."
The new selective enrollment school announced today builds on Mayor Emanuel's and CEO Byrd-Bennett's plans to expand selective enrollment options throughout CPS. The recent expansion of Jones College Prep will accommodate an additional 800 students by SY16-17, raising the school's total enrollment to 1,700. Similarly, Mayor Emanuel and CEO Byrd-Bennett announced plans last year to expand the nationally ranked Walter Payton College Prep by additional 300-400 students in coming years.
"I am pleased to join the Mayor and CPS CEO Barbara Byrd Bennett in providing another high-quality education option for parents of CPS students from the Cabrini Green, Near North neighborhoods and City-Wide," said Alderman Walter Burnett, 27th Ward. "We have seized an incredible opportunity to continue to invest in our future through education."
The school project will be funded through approximately $60 million in TIF funds and will be built on Chicago Park District property near Skinner North Classical School, a high-performing, Kindergarten through 8th grade elementary school. The expansion and renovation of Jones College Prep in the South Loop was made possible thanks to $115 million in TIF funds, part of $1.2 billion in TIF dollars committed to CPS to support building and improving local schools.
The school will be centrally located and accessible to mass transit and expressways, making it accessible for students from across the city.
Mayor Emanuel and CEO Byrd-Bennett have taken a series of steps to improve access to high-quality schools. Other investments have included 5,000 additional seats in early education centers, a full day of school for all students starting in kindergarten, and more access to rigorous courses such as IB or STEM that are aligned with the job market to prepare our students for the 21st economy. Early this week, Mayor Emanuel and CEO Byrd-Bennett also announced that five elementary schools across the city will establish new International Baccalaureate programmes beginning next fall, adding an additional 1,500 IB seats in the district and making CPS the nation's largest operator of IB campuses.
CPS serves 400,000 students in 658 schools. It is the nation's third-largest school district.
CHICAGO TRIBUNE APRIL 25, 2014 ARTICLE ON OBAMA HIGH...
By Noreen S. Ahmed-Ullah and John Byrne. Tribune reporters. 7:28 p.m. CDT, April 24, 2014
Chicago students vying for hard-to-get spots in the city's most competitive public high schools will get a new selective enrollment high school named after President Barack Obama.
For parents frustrated with a gut-wrenching process that some have compared to getting their child into an Ivy League school, 300 additional freshmen seats come as welcome news.
"A lot of parents in the city will be happy to know there's more school seats in a central location," said Rebecca Labowitz, who runs the "cpsobsessed" blog, frequently filled with comments from parents about the district's selective enrollment admissions process.
Her son, a 5th grader, will be a freshman the year Barack Obama College Preparatory High School is scheduled to open in the fall of 2017. Located just north of Skinner North Classical School, near the former Cabrini-Green public housing complex, the school will pick about 70 percent of its students from throughout the city through the competitive selective enrollment process, and the remaining from the neighborhood.
For Mayor Rahm Emanuel, the announcement, coupled with an earlier University of Chicago study released Thursday showing more freshmen are on track to graduate high school, was an opportunity to celebrate a new course for Chicago Public Schools.
"For the first time in the city of Chicago, I get to say that (U.S. Education) Secretary (William) Bennett, who in 1987 said the city of Chicago is the worst public school system in America, you're wrong. Dead wrong," Emanuel said.
The freshmen-on-track graduation rate has gone up from 57 percent in 2007 to 82 percent, according to the University of Chicago study, which was touted by Emanuel's office today.
Mayoral critics noted the $60 million high school was announced a day after CPS voted to turn over management of three failing schools in impoverished neighborhoods on the city's West and South Sides to a private organization. They contend that instead of investing more resources in top-tier schools that serve a small number of students, the money should be used to help neighborhood schools across the city, many of which saw severe budget cuts this school year.
Some also wondered why Obama College Prep was not being built on the South Side in the president's Kenwood neighborhood or in the community where First Lady Michelle Obama grew up, rather than among well-to-do North Siders. The mayor last fall announced a $17 million addition for another top tier school, Walter Payton College Prep, located nearby.
"He's clearly trying to satisfy a certain demographic by putting in another selective enrollment school right near another one," said Wendy Katten with parent group Raise Your Hand. "This is only going to impact a small percentage of students. It's not going to address a citywide need for strong neighborhood high schools."
Selective enrollment schools are highly competitive. This school year, the district received applications from 16,440 students for 3,200 seats. More than 2,400 students were denied.
CPS' top schools — which rank among the best in the state — admit students based on test scores, grades and results of an entrance exam. CPS also factors in the socio-economic demographics of applicants' communities, or "tiers," to increase diversity, which results in students from wealthier neighborhoods needing near perfect scores to get in.
Labowitz said there's a need for high selective enrollment schools on the South and West Sides as well, but North Siders feel more anxiety because of the nearly impossible scores required.
"There's a great sense of need on the North Side because it tends be a tier of parents who have high scoring kids whose kids don't get a North Side seat," Labowitz said. "For many tier 3 or tier 4 parents, the only acceptable option is a selective enrollment high school. For many, neighborhood high schools still haven't earned the reputation of being academically challenging or safe."
While most fight for seats at North Side College Preparatory School, Walter Payton and Whitney Young, the addition of more seats at Jones College Prep last year — a project begun under former Mayor Richard Daley — added 125 more spots for freshmen. The Payton addition to be ready in December 2015 will add about 100 more.
At Obama Prep, which is slated to open in the fall of 2017, the school will ultimately grow to 1,200 students. The school will be funded through approximately $60 million in TIF funds and will be built on Chicago Park District property.
Because the school would be paid for with tax-increment financing funds, it would not add to CPS' burdensome debt load. However, some view the tax-increment financing mechanism itself as a drain on school coffers, since the funding for TIF projects comes from property tax dollars, a portion of which would typically go to the school district.
Emanuel refused to get into specifics about any discussions he has had with Obama about the naming of the school, but said the president is aware of the project.
"I'm not going to put words in his mouth, but he knows about it and he's excited about it," Emanuel said.
Tribune reporter Heather Gillers contributed to this story.