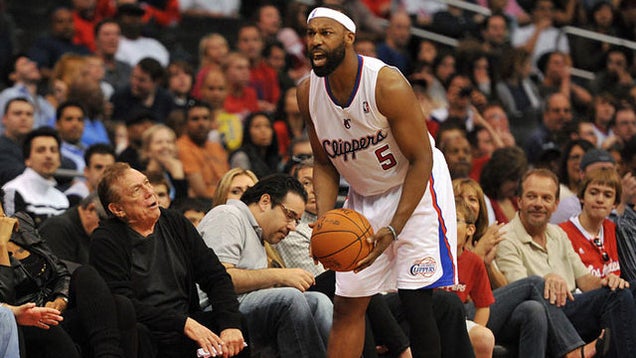 When the news broke more than a year ago that
Clippers owner Donald Sterling used to heckle Baron Davis
from his courtside seat when Davis was still playing for him, Davis declined to comment. Reports at the time said Sterling's barbs included questioning Davis's shot selection and telling Davis he was out of shape. But in an interview
published yesterday in the New York Post
, Davis said Sterling's taunts went beyond that—and that they impacted his play:
And the other lowest point is when I played for the Clippers. ... I just stopped liking basketball. And then you dribbling down the court and having the owner like cuss at you and call you an idiot. I didn't even look forward to coming to the games, and if the owner [Donald Sterling] came to the game, I definitely was not gonna have a good game because it was just like, how do you play when the main heckler in the gym is the owner of the team, and he's telling you how much he hates you and calling out your name?
We've
said this before
, but it's worth repeating: Donald Sterling is a terrible person who gets away with being a terrible person in an oh-so-image-conscious league for the simple reason that he owns a basketball team instead of plays for one.
It's also worth noting again that if a small forward did half the shit
Sterling has done
— if, for instance, he mused, "Is she one of those black people that stink?" or if he testified in court, "It was purely sex for money, money for sex, sex for money, money for sex," or if he asked a woman in his employ to find him a masseuse "who will, you know, let me put it in or who [will] suck on it," or if the businesses he ran
subscribed to practices
that'd embarrass the Greensboro Woolworth's lunch counter — he'd be looking for a game in the Upper Bosphorus right now.
All of which is to say that
this latest
, which finds Donald Sterling taunting his own point guard from his courtside seat (possibly pictured here), is almost quaint. Sweet, even. He called Baron Davis fat. He questioned his shot selection. The fact that he is being a dick to an employee without propositioning, sexually harassing, or racially discriminating against him counts as significant progress.
Link:
http://deadspin.com/5713427/donald-sterling-is-a-sack-of-shit-part-982