Whoever controls the Ukraine Is Financially Dictating to The EU (European Union) Oil,Gas,Water & Electricity Prices for this 21st Century!!!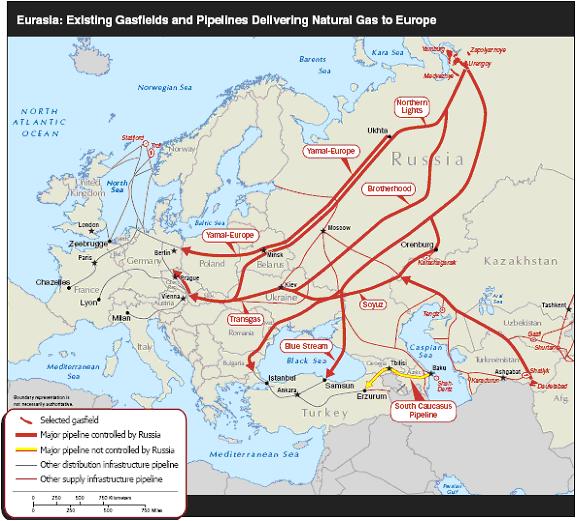 The recent speech given by Barack Obama at the Palais des Beaux-Arts (BOZAR) in Brussels, Belgium on March 26, 2014 must rank as the greatest international episode of rank hypocrisy in recorded world history. Truly, only by seeing and hearing this absurd script can one apprehend the level of deception to which the USA has sunk.
That Obama would deliver such a speech with a straight face now completely vindicates his handlers. Yes, they have chosen a "leader of the free world" who can now reliably read from a teleprompter. And, yes, he will read anything they put in front of him, no matter what the degree of truthfulness, the real intention or potential global repercussions.
In light of the spate of unprovoked military aggressions that the USA has either initiated, lead or participated in throughout the world, it is in no position to lecture any other nation. This nation has lost all moral ascendancy, perhaps for the rest of its existence. Certainly, it deserves the respect of no one, should the USA stay the present course of militarism, gunboat diplomacy and incessant
CIA-coordinated coup d'état
s.
In Obama, the takers have found a spokesman, and salesman, who will say whatever must be said to convince those who possess real wealth to part with it peacefully. Should those overtures be ignored,
Pax Americana
(PA) will certainly show up at a neighborhood near them. Somehow the graphic double standard in the application of PA never occurs to the likes of Obama, Kerry, Biden, Hagel, McCain, Graham et al. Their highly conditioned sense of entitlement has apparently all but desensitized them to the awesome consequences which are experienced by one destroyed nation after another :
IRAQ
AFGHANISTAN
LIBYA
SYRIA
EGYPT
YEMEN
PAKISTAN
PALESTINE
LEBANON
SUDAN
CHAD
SOMALIA
UKRAINE
GEORGIA
VENEZUELA
HONDURAS
PANAMA
YUGOSLAVIA
SERBIA
BOSNIA & HERZEGOVINA
ALBANIA
MYANMAR
THAILAND
PHILIPPINES
EAST TIMOR
VIETNAM
And that is just a partial list of the most recent and obvious unprovoked wars and military actions carried out or supported by the good ole USA.