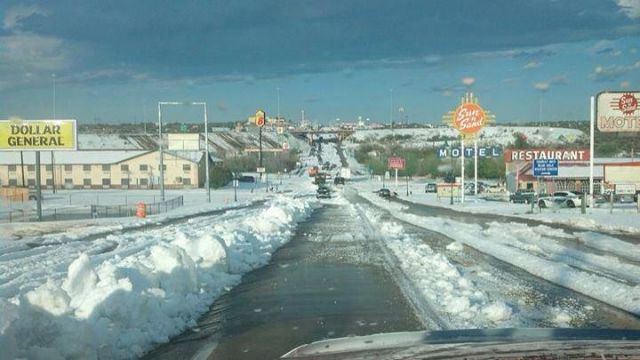 A lone thunderstorm dumped over a foot of hail in the town of
Santa Rosa, N.M.
Wednesday evening, leaving a surreal sight the day before the Fourth of July.
Photos from the Santa Rosa Fire Department showed snow plows clearing city streets clogged with accumulated hail drifts.
According to the National Weather Service in Albuquerque, hail up to golfball size pelted the city around 6:00 p.m. MDT.
Skylights were damaged and a roof was partially collapsed in the city of approximately 2,800 residents, about 105 miles east of Albuquerque, according to a report from the Albuquerque Journal.
How Unusual?
As bizarre as this sounds, accumulating hail is not uncommon in the High Plains.
Northeast New Mexico sits in what meteorologists call "Hail Alley", a swath from southeast Wyoming and northeast Colorado to northeast New Mexico and the Texas Panhandle, where large hail falls on average at least three days a year. A common late spring and early summer occurrence is accumulating hail, sometimes to the magnitude of a couple of inches, in northeast Colorado, often including the Denver metro.
This is due, in part, due to higher elevation. The less depth of warm air for a hailstone to fall through, the greater the chance of it reaching the ground before melting. Santa Rosa, N.M. lies at 4,616 feet above sea level.
But what about feet of hail?
On April 11, 2012, a single supercell thunderstorm dumped torrential rain and hail near
Dumas, Texas
, north of Amarillo. The volume of both hail and rain overwhelmed a shallow gully, or draw, near the U.S. 287 bridge, piling the water and ice mass into massive drifts up to 10 feet high, trapping vehicles and forcing closure of the road for 12 hours.
A
study on so-called "hail glaciers"
from National Weather Service Meteorologists Justyn Jackson, T. Todd Lindley, and Jane Love, from the New Mexico Bureau of Geology and Mineral Resources uncovered two other events in the recent past:
August 14, 2004 (Clayton, N.M.): Up to 16-foot hail glaciers. Some ice cover lasted almost a month...even in late summer!
May 9, 1994 (Dalhart, Texas): Up to three-foot hail drifts shutdown U.S. 385 for almost one month!
Link:
http://www.weather.com/news/two-feet-hail-new-mexico-town-20130704